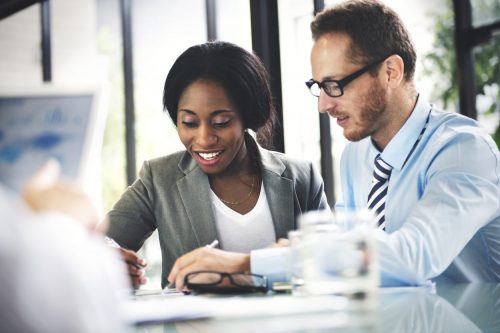 What does "business etiquette" mean?
Business etiquette is an umbrella term that includes not only business manners in the workplace (including business dining), but also business communications, business attire, and more.
Why business etiquette matters
To boil it down, etiquette is about being respectful for others. In a business context, it means showing this respect by the way in which you interact with employees, colleagues, and other business associates. By using good business etiquette, you show your own integrity.
As Theodore Roosevelt said: "Politeness is a sign of dignity, not subservience."
What to be mindful of
Be considerate of others in everything you do. This means showing up on time, keeping promises, and showing respect in talking and treating others.
Follow the rules of proper communication. Whether in person or by phone, text, or email, stay professional. Understand some basic rules, such as writing with proper grammar and punctuation, avoiding all caps (which can be interpreted as yelling), knowing when to use cc or bcc in your email, and responding to all communications in a timely manner.
Conduct yourself properly. How you look and act creates an impression of who you are (whether fairly or not). So, dress the part, even if this is casual. Use good table manners whether in the break room or dining with customers, prospects, vendors, or anyone else.
Final thought
As the doyen of etiquette Emily Post said: "Manners are a sensitive awareness of the feelings of others. If you have that awareness, you have good manners no matter what fork you use."
For more details click here